The objective of a "cold air intake" is to increase the air density going into the engine. Cold air has more oxygen molecules and thus the engine can increase the fuel. Makes more power. On some engine the heated air is a significant power loss. That said, most vehicles since the early '80s DO have cold air intake intakes by design.
Older carburetor engines needed heated air to prevent throttle plate icing and to reduce emissions. The air cleaner intake was often just open the the hot under hood air. Modern fuel injection engines have no need for heated air as the computer can control the details for emissions.
The air intake on most modern FI vehicles draws air in from behind the headlights. The cold air intake MUST draw air from a cold source, like from behind the headlights and be closed off to under hood heat. The eBay type cold air intakes RARELY take in air from a cold source.
This is marketed as a cold air intake. It is open to heat from the radiator and exhaust manifolds.
This intake is shielded from under hood air and takes it from behind the headlight. When the hood is closed it seals it. The better sealed the more efficient it is.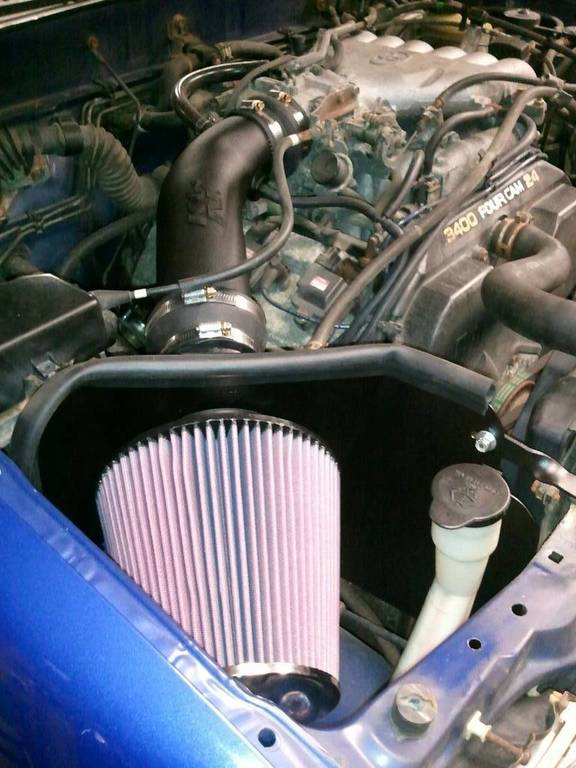 I had a customer with a "Cold air intake" on his Blazer. I had my scanner on it while it was warming up. It was about a 70* day and I started the truck cold. In under 5 minutes it was over 120*, another 5 minutes and it was 180*, and it topped out at over 220*.
My truck, on the same day never got over 90* intake temp.
So IF any benefit can be obtained it would be increased air flow. Most cars do not have much restriction and little benefit is seen with an air filter upgrade. A few cars with cramped engine bays and heavy breathing engine will see more power from a freer flowing filter, like Corvettes & Vipers. This also comes at a price, as increasing the air flow within the same confines as the stock filter is often at the cost of less filter efficiency, meaning more dirt gets past the filter.